Low Voltage Landscape Lighting Professionals in Madisonville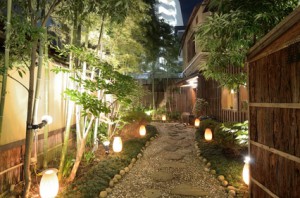 You can enhance the beauty of your property at night with professionally designed and installed landscape lighting. Our Low Voltage Landscape Lighting Services are the perfect match for anyone who wants to display there landscape and increase security at the same time. From path lighting to security lighting, our outdoor lighting services cover all facets of the landscape lighting arena.
Our landscape lighting specialists can install lights to showcase the your home's exterior, such as highlighting unique architecture or drawing attention to areas you wish to feature as part of your home's curb appeal. Having Low Voltage Landscape Lighting installed is more affordable than most people think. From start to finish, our Madisonville area Landscape Lighting electrical contractors work with you, the homeowner, every step of the way.
Landscape Lighting Solutions in Madisonville
Here at Aesthetic Landscapes, Inc, we use our Low Voltage Landscape Lighting to accomplish two major tasks with one simple solution. The two areas we focus on for landscape lighting is safety and security. Our Landscape lighting solutions provide an increase in safety, security, and showcases the beautiful landscaped yard at night and provides ambiance. Our landscape lighting experts are focused on getting the job done right the 1st time. The job is not done until you are 100% satisfied.
Recent Articles
Trends to Consider for Your Landscaping Water Features

When it comes to making choices about water features to consider for your Abita Springs landscaping, it helps to know what some of the current trends are, including what's popular locally. Aside from something specific like an Abita Springs beer fountain or something so unusual it could be part of the display at...

Read More
Tips for Effective St. Tammany Parish Landscape Lighting

Having a couple of Madisonville landscape lighting additions installed in your home will have a great effect on the aesthetic appeal of your house, especially during night time. You would be surprised at how your home will look simply by adding a couple of lighting fixtures in your yard. Here are a couple of tips...

Read More
If you are looking for Low Voltage Landscape Lighting in Madisonville then please call 985-201-9797 or complete our online request form.