Quality Hardscaping Pavers and Flag Stones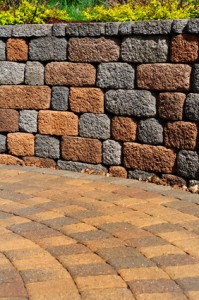 Hardscapes offer a wide variety of products that will match any backyard design and style. From concrete pavers to segmented retaining walls, and flagstones, your new hardscaping will become an instant attraction and also add tremendous value to your home. They will also reduce yard maintenance costs and control erosion. We offer full service hardscaping installation. Our service is fast, affordable, and dependable. We only use the highest quality hardscaping products that are durable, weather-proof, and long-lasting. Contact us today to find out about all the hardscaping options available to you.
Concrete Pavers
Aesthetic Landscapes, Inc concrete pavers are commonly utilized to make the highest quality decorative landscaping that there is. with concrete pavers the design and style options are endless, and they allow you to be as creative as you want. Concrete Pavers are durable, retain the color and vibrancy, and they last forever. They are strong enough to use as driveways, but elegant enough for landscaping and walkways. When you contact Aesthetic Landscapes, Inc, a professional consultant can schedule an on-site appointment and help you create a unique design for your home. No matter what your personal preference, we can take your ideas and turn them into reality.
Segmented Retaining Walls
Retaining walls are a multipurpose solution for your landscaping residential landscape. Their primary function is to provide reinforcement for vertical sloping in order to minimize washout or erosion. By implementing a retaining wall your lawn can be leveled. There are a number of decorative features such as flower gardens and trees or designs that can be added in order to create a more ornate environment. Retaining walls can be used for any number of scenarios from small support for decks and high ground in your yard, to large scale walls used in commercial properties.
Flag Stones
Flagstones are used for paving slabs, walkways, patios, fences, and roofing. They have a number of uses including facades and other types of decorative construction. Flagstones are popular for their flexibility of design, installation options, texture and color. The are great for creating unique environments. The stone is very durable, and actually very affordable compared to other hardscaping options. There is very little maintenance that needs to be given to it, and it's easy to plant greenery all around it. Just like other types of hardscapes, the options available to you are only limited by your own imagination.
Quality Durable Construction
When you use Aesthetic Landscapes, Inc for your all your hardscape design and installation, then you can rest assured that we will provide you with products of only the highest quality from reputable manufacturers that you can trust. We put care and precision into every single project we do. This guarantees you absolute satisfaction. Experience the Aesthetic Landscapes, Inc difference today!
if you are looking for Quality Hardscaping Pavers and Flag Stones in Madisonville and Madisonville then please call 985-201-9797 or complete our online request form.