Transform Your Outdoor Oasis with Fire Pits & Retaining Walls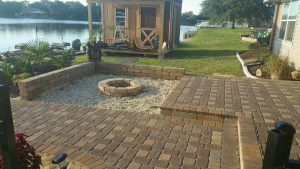 At Aesthetic Landscapes, Inc., we think that the beauty of your outdoor space should be a true reflection of your style and personality. That's why we offer exceptional fire pit and retaining wall solutions in Mandeville that not only elevate the aesthetics of your landscape but also create functional and inviting spaces for you to enjoy. Keep reading to explore how our fire pits and retaining walls can transform your outdoor oasis into a breathtaking retreat, all while adding value to your property.
Fire Pits: Ignite Warmth and Ambiance
Fire pits are the perfect addition to any outdoor area, providing a cozy gathering spot that extends your outdoor living season. At Aesthetic Landscapes, Inc., we specialize in designing and installing fire pits that blend seamlessly with your landscape, creating a captivating focal point. Whether you prefer a traditional wood-burning fire pit or a modern gas-powered option, our skilled craftsmen will bring your vision to life. Imagine gathering with loved ones around the flickering flames, enjoying the warmth and ambiance of your customized fire pit.
Retaining Walls: Beauty and Functionality
Retaining walls serve both practical and aesthetic purposes in your landscape. They offer structural support to prevent soil erosion, manage water flow, and create different levels within your outdoor space. At Aesthetic Landscapes, Inc., we understand that retaining walls need to be both functional and visually appealing. That's why we design and construct retaining walls that seamlessly integrate with your landscape design. With our expertise, we can transform uneven or sloping terrain into an organized and beautifully tiered masterpiece. Our retaining walls are built to last, using high-quality materials and expert craftsmanship to ensure durability and longevity.
Customization to Suit Your Style
Our team believes that every outdoor space is unique, and your fire pit and retaining walls should reflect your personal style. Our team of experienced designers will work closely with you to understand your preferences and create custom solutions that complement your existing landscape design. Whether you envision a rustic, natural stone fire pit surrounded by cozy seating or a sleek and modern retaining wall with clean lines and integrated lighting, we have the expertise and creativity to bring your vision to life.
Expert Craftsmanship and Quality Materials
When it comes to fire pits and retaining walls, quality craftsmanship and materials are paramount. Aesthetic Landscapes, Inc. takes pride in our attention to detail and uses only the finest materials in our projects. Whether it's natural stone, brick, or concrete, we source materials from trusted suppliers to ensure durability, functionality, and visual appeal. Our skilled craftsmen meticulously construct each fire pit and retaining wall, ensuring that every aspect, from the foundation to the finishing touches, meets our high standards of excellence.
Value-Added Investment
Investing in fire pits and retaining walls from Aesthetic Landscapes, Inc. is not only a way to enhance your outdoor living space but also a smart investment in your property. A beautifully designed and well-constructed outdoor area can significantly increase the value of your home, making it more appealing to potential buyers. Additionally, the added functionality and aesthetic appeal of fire pits and retaining walls create an inviting atmosphere for entertaining, relaxation, and enjoying quality time with family and friends.
We're The Pros To Call
At Aesthetic Landscapes, Inc., we're the Mandeville landscaping professional dedicated to transforming outdoor spaces into stunning retreats that reflect your unique style and enhance your lifestyle. With our expertise in fire pits and retaining walls, we create functional, visually appealing, and enduring features that become focal points within your landscape. From the warmth and ambiance of a customized fire pit to the structural support and beauty of a thoughtfully designed retaining wall, our team is committed to bringing your vision to life. Contact Aesthetic Landscapes, Inc. today, and let us elevate your outdoor oasis in Mandeville to new heights of beauty and functionality.