Madisonville Irrigation & Drainage Specialists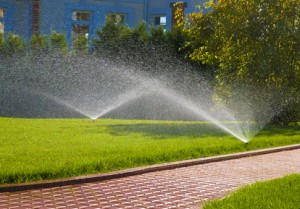 It is really simple. Water gives life to your landscape. Too Much Water can wash away vital nutrients. So what you need is a proper balance between the two. That is why Aesthetic Landscapes, Inc offers our Irrigation & Drainage Services. We will help you maintain the beauty of your landscape by installing a automated Irrigation system that is suited for your yard. We will also ensure that proper drainage is included to avoid over watering.
At Aesthetic Landscapes, Inc, we want the best for your yard. We believe that proper Irrigation & Drainage is the backbone to a healthy landscape. If your yard is in need of a little TLC then give us a call and see the difference we can make.
Irrigation System Installation
Growing and maintaining a beautiful lawn requires a well-tuned irrigation or sprinkler system. At Aesthetic Landscapes, Inc, we can install a new irrigation system that will make your job a lot easier. Our installation team can give you the fully automated system that requires no additional work from you. If you currently have a irrigation system that is non-functioning or in need of some repair then you can rely on our services as well. From lawn sprinkler repairs and maintenance to new irrigation installations and designs, we'll take care of your lawn watering and irrigating needs.
Madisonville Drainage Solutions
Why is proper drainage important? Well for starters, water that sits or puddles for an extended period of time can hurt your landscape. If water is allowed to collect next to your home then there can be foundation issues you may have to deal with in the future. At Aesthetic Landscapes, Inc, we can alleviate your drainage dilemma and keep your lawn looking its best with some simple modifications. Our Drainage Solutions will keep water pointed in the right direction. Call 985-201-9797 for more details.
Recent Articles
Drainage Options for Your New Orleans Home
Having standing water on your New Orleans property can attract pests and cause water damage to your home and landscaping. Many homeowners hire landscapers to build drainage features on their lawns to provide solutions to this problem and to prevent the destructive effects of flooding, erosion, and runoff. Drainage solutions include building a dry well…
READ MORE
If you are looking for Irrigation & Drainage Services in Madisonville then please call 985-201-9797 or complete our online request form.