Tree Stump Removal in St. Tammany Parish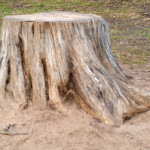 After you have a tree professionally removed, often times the stump is all that remains. Some choose to leave the stump for various reasons, but most often, if the tree's gone, the stump needs to be removed as well. Trying to do this on your own can take a long time if the tree is small, but large tree stumps are pretty near impossible to effectively remove without the help of industrial strength equipment. Aesthetic Landscapes, Inc offers superiors stump removal so you don't have to worry about the hassle. We make the job easy and quick and can even help you dispose of the stump. Give us a call today and we will remove that unsightly stump from your property.
There are a few different ways to remove a tree stump effectively. Trying to hack away at the roots yourself will take forever and it's not guaranteed that you can move it after it's detached from the ground. Sometimes, homeowners try to remove a tree stump chemically. You by these chemicals, drill holes in the stump and pour in the remover. This is to hasten the decaying process but anytime you introduce chemicals into the ground, it can be very dangerous. Tree stumps will mostly decay naturally but this takes at least a decade.
For a safe and effective way to remove your stump, call us! We have years of training, expertly cutting roots and efficiently removing stumps with our state of the art equipment. We know how to get the job done well so you don't have to worry about what to do or how to clear the space for your next project. For a complete process, let us know that you want to remove the stump when you call us to cut your tree down and we'll make easy work of both!
If you are looking for a St. Tammany Parish tree stump removal company then please call 985-201-9797 or complete our online request form.