Understanding Some of Your Options for Outdoor Living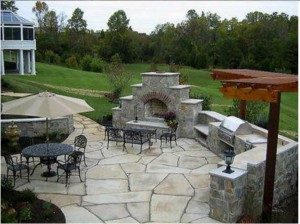 In recent years here in Mandeville and Madisonville there has been a significant rise in popularity for outdoor living spaces, and for good reasons. Why limit yourself to to just the interior of your home when you could branch out. Maximize your outdoor living space by seeing the potential past your four walls. This is also the ideal way to host social gatherings without being stuck inside or worrying about spills and items getting broken. There are several different options available when it comes to moving the party outside into your outdoor living space but let's look at a few of the most popular selections available:
Kitchens
Outdoor kitchens are trending and this is probably not something that will decrease in popularity any time soon. What better way to host a dinner party without the need to cook inside while your guest mingle outdoors? Stop missing out on the party just because you are the designated chef; have the best of both worlds with an outdoor kitchen from your Mandeville Landscape Architect. This kitchen can be as simple or as elaborate as you would like and can usually work with just about any size space.
Gazebos
A gazebo is the perfect way to enjoy the great outdoors in a group setting or all alone. This structure has a roof so you can even enjoy it during rainy days if you want. The idea is to get one that looks right with and works cohesively with the landscaping you already have in place.
Pergolas
Pergolas are probably the option that comes with the most amount of variety in options. This is because the structure itself can be different and you can opt for different types of "roofing" systems. The roof of a pergola is not like a gazebo because it is not solid, if there is one at all. There may be slats closer together helping block some sunlight but generally this is left more open or growing flowers or climbing vines is the only way to create some type of overhead enclosure.
Getting the Outdoor Living Best Results
The smartest way to get the best results for your individual situation is to work with an expert here at Aesthetic Landscape Solutions in order to better understand your options. We can help you envision what each one would look like on your yard, as well as picture how you might benefit from each. Get in touch with us today and let's start working on your project. Stop settling for strictly indoor living when we can help you to expand your horizons.
If you are looking for an outdoor living landscaping company in Mandeville or Madisonville then please call 985-201-9797 or complete our online request form.