General Landscape Construction Experts in Mandeville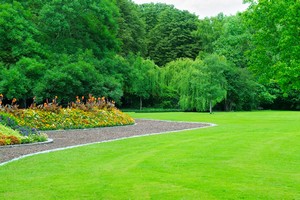 Knowing a landscape designer who is experienced in both hardscaping and softscaping will be useful when you want to schedule general landscape construction services with a landscaping company for your Mandeville home. If you're planning landscape construction projects around your residential property, reach out to the skilled team at Aesthetic Landscapes, Inc. for assistance.
Hardscaping includes the construction of stonework structures, such as outdoor fireplaces, fire pits, fountains, and retaining walls, and softscaping involves the landscape design of flower beds, plants, and trees.
General Landscape Construction Services
Paved Surfaces & Hardscapes – Build a sidewalk, driveway, or retaining wall.
Overhead Structures – Construct a pergola, gazebo, pavilion, or arbor.
Landscape Edging – Select materials such as wood, metal, brick, stone, and plastic.
Pool & Water Features – Choose from water features such as swimming pools, ponds, and water walls.
Outdoor Steps – Consider materials such as concrete, natural stone, and brick pavers.
Key Factors to Consider Prior to Landscape Construction
Inspiration for Landscape Design
Drainage
Soil Conditions
Function of Landscaping Features (Relaxation, Entertaining, Dining & Curb Appeal)
Maintenance of Landscaping Features
Natural Pathways in Landscaping
Work With Our Knowledgeable Landscaping Specialists
Because hardscaping projects are semi-permanent installations, you should speak to an experienced landscape designer as you plan your home improvements. If you don't have landscaping expertise, all of the high-quality materials in the world won't achieve the same effect as they would have with the help of a landscape designer.
If you want a landscape designer to walk you through every step of the construction process so that you're completely satisfied when your Mandeville home's project is complete, collaborate with a landscaping company like Aesthetic Landscapes, Inc.
If you are looking for residential general landscape construction in Mandeville and the surrounding areas, then please call 985-201-9797 or complete our online request form.