Drainage Options for Your New Orleans Home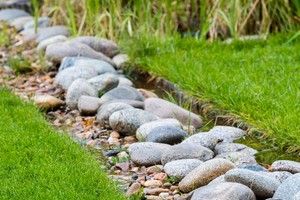 Having standing water on your New Orleans property can attract pests and cause water damage to your home and landscaping. Many homeowners hire landscapers to build drainage features on their lawns to provide solutions to this problem and to prevent the destructive effects of flooding, erosion, and runoff. Drainage solutions include building a dry well, French drain, holding pond, or retaining wall.
Choose a Drainage Type That Suits Your Property
Dry Well – Your landscaping contractor may suggest building a dry well, also known as a soakpit, soakaway pit, and a soakwell. This drainage solution resembles a water well, but it's surrounded by or filled with gravel and built above the water table. Dry wells also function as reservoirs and can contain rainwater or wastewater. The water held in a dry well will eventually become absorbed into the soil.
French Drain – French drains are slightly sloped trenches filled with round gravel and perforated pipes that direct water away from homes to streets, dry wells, low-lying areas, or drainage ditches.
Sump Pump – Installing a sump pump is a good idea if your home was built on a location with a high-water table or an area prone to flooding. These devices divert water flow away from houses so that these homes and the surrounding landscaping don't become damaged by ponding water.
Land Grading – New homes and commercial buildings can benefit from land grading after site excavation. The ground will be sloped or leveled to ensure that the water doesn't collect near the foundations of buildings.
Holding Pond – Your landscaper can build a holding pond near your home if your property requires stormwater management and erosion, runoff, and flooding prevention. These ponds can be designed in different sizes and shapes, and they're able to contain a significant amount of stormwater.
Retaining Wall – Typically, a retaining wall is used to keep soil at varying elevations, but it can also be used to provide adequate drainage on your lawn. Water is unable to pass through a solid retaining wall, so the wall can become damaged by high pressure caused by water accumulation. By placing gravel behind the wall, forming weep holes in the wall, and adding a perforated pipe behind the wall, your landscaping contractor will ensure that your retaining wall has sufficient drainage.
Grass Swale – Grass swales are constructed out of plants that can resist erosion and withstand floods. Grass swales have shallow depths and linear orientations, and they're built to reduce the effects of flooding and to manage stormwater. The water collected in a grass swale eventually absorbs into the soil.
Schedule Drainage Services With Our Landscaping Experts
If standing water is ruining your landscaping and damaging your New Orleans home, consider hiring a landscaper from Aesthetic Landscapes, Inc to install or build the drainage solution of your choice. If you're unsure which drainage option will work best for your property, our landscaping experts can offer recommendations.
If you are looking for a St. Tammany Parish landscaping company, then please call 985-201-9797 or complete our online request form.