5 Tips to Get More Out of Your Home Landscape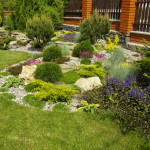 The landscape on your lawn is more than just new clever design. It is a direct reflection of who you are and should compliment your personal taste and style in a way that is distinctive and eye-catching. Since most homeowners are not landscape experts, achieving the vision you have in your head can be quite a challenge. This is why hiring a professional should be at the top of your priority list. A seasoned landscape expert can help turn your ideas into a reality while exposing you to the right resources and helping you save money at the same time.
Compliment Your Entire Property
It's important to understand that your landscape doesn't stand alone. It's part of the entire look of your home exterior which includes your house, your deck or porch, all accessories and components. The idea is bring everything together to create a close-knit design in what everything matches. So as you're considering walkways, greenery, gardens and other items, consider how it will accent your current decor. Such items to consider are colors, patterns, textures. and the overall design. This takes careful planning and strategy that only an expert can help with.
Maintenance and Care
Something that homeowners rarely think about is how much time, energy, and money they'll have to spend taking care of their plants once their implemented into the lawn. Sure that lavender looks lovely in your garden, but will you be calling the landscape company out every week in order to keep it looking luxurious? While some plants need constant care, others seem to grow on their own and retain the resiliency with little to no attention whatsoever. Your Aesthetic Landscapes specialist can sit down with and give you a comprehensive description of several types of plants, where to place them, and how often they will need tending.
Creative Additions to Your Lawn
With landscaping it's important to think outside the garden. There are lots of modern and classic style accessories that enhance and beautify your garden and give it a distinctive look. Some great additions may include hardscapes such as patios, paver patios, decks, fire pits & walls, all of which create a completely unique yard environment. You should also check out ponds & water features. If you think that having a small water pond with Japanese fish swimming around is an impossible feat, then think again. It's a matter of a few steps and a little creativity. Have you thought about landscape lighting to brighten your lawn at night or provide great security?
Get The Dirt on Your Lawn
Before you ever put the first plant into the ground, it's important to gather a soil sample. A soil test can help you determine what nutrients need to be added to the soil in order to properly grow plants. It also tells you what types of plants and flowers will thrive in your yard and which plants you should refrain from trying to grow. A professional soil test will give you information such as current pH levels of the soil, fertility levels, type and quantity of lime your soil needs, and also the amount of fertilizer your greenery will require. Having your soil tested will save you time, money, and the headache of improper planting.
Get Creative with Your Landscape
Every improvement you make to your home is a major investment that adds value and gives you a sense of enjoyment and fulfillment in your yard. So why not go all out and create something that help your yard truly stand out? With all the options available to you today, it's possible to get the lawn and landscape you've always wanted. By partnering with an Aesthetic Landscape specialist, landscape design and implementation has never been easier. Get started today!
If you are looking for Service Areas of a St. Tammany Parish Landscaping company then please call 985-201-9797 or complete our online request form.