Figuring Out Your Landscape Lighting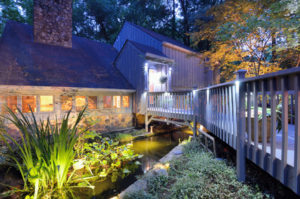 If you are planning to landscape your Louisianan home, you'll need to make decisions on landscape lighting. You achieve a beautiful landscape with the right outdoor lights. But how do you know what type of light to put where? There will be several aspects to consider before making any decisions.
Professionally installed and arranged landscape lighting will draw attention to your landscape's beauty by accentuating its shape and style. Along with all the beautiful plantings, trees, flowerbeds, and hardscaping in a landscape design, good lighting is a key element if properly placed.
The lighting scheme is designed and implemented to enhance everything after dark, so it's important to plan locations and use a combination of lighting types. With professionals like Aesthetic Landscapes, Inc. in Mandeville, LA, you have all the help you need to design and install landscape lighting. But there are still key elements you will need to think about. Here are some tips to consider.
Lighting Puts The Punch In Your Landscape Design
Add the fun to your landscape and increase curb appeal with beautiful lighting. One of the greatest things about lights is they can subtly or boldly illuminate certain key areas you want to draw attention to. Place a spotlight under a small grouping of trees. Face one toward the new sculpture you want to show off or the special architectural features of the home. Highlight a water feature with some soft lights. Try some colored LED lights to create a little dramatic beauty.
How Much Outdoor Light Is Needed & Where
First, flood lights increase security but so do other types of outdoor light. A floodlight is the number one lighting type we recommend that you install because standard homes aren't generally built with them. You can make your driveway and home entrance more secure if you light it up with flood lights in certain areas. Try installing them on either side of your house. You can also install a flood light over the garage or an outdoor workshop so the area is safer. If there isn't a good, strong light near the street, install a flood light or a lantern light on a pole near the road.
By illuminating the front walls of the house in key areas, you also remove the hiding spots that thieves could use. A few beautiful upward pointing spot lights can both add to the curb appeal of your home and increase security. In the back yard, you may prefer to use softer lights to create ambiance so the area is enjoyable and still safe after dark.
Save Energy With Low Voltage Landscape Lighting
If you integrate some solar or low-voltage LED lighting into your landscape, you can save on the energy bill. Solar lighting is simply great to line walkways and sidewalks if the area is exposed to some sunlight. They provide low but sufficient light to illuminate the edges and outlines of the landscape.
All areas of the landscape can be illuminated with LED lighting. Install energy efficient LED landscape lights instead of regular spot lights, security lights, pathway lights, porch lights, and pool lights if you want to not worry about a high energy bill.
Landscape Lighting Installation Services
Proper lighting for your landscaping not only helps accent the qualities of your landscape's design but can also add security to the exterior of your home or business. Landscape lighting keeps your yard nicely illuminated in a fashion that significantly improves visibility at night while highlighting the design strengths of your landscape. The value that proper lighting can add insofar as security should also not be overlooked. If the exterior of your home is well lit, it will deter criminal behavior.
Whatever your choices may be, our Mandeville landscaping company can help you figure out what you need to achieve the safety and curb appeal you dream of. Whether it a small lighting project or a whole new landscape design and build, our team is ready to help you. We would love to come out and sit with you to discuss your plans.
If you have questions or are interested in Landscaping Services in Mandeville, Madisonville, or surrounding areas, please call Aesthetic Landscapes, Inc. at 985-201-9797 or complete our online request form.