GAZEBOS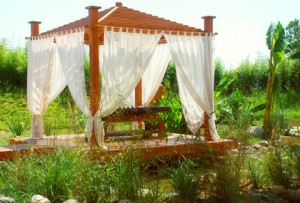 If you're like the general population, you call any outdoor structure a gazebo or covered patio. The terms Gazebo, Arbor, Pergola, and Pavilion originated to mean certain features or structures to differentiate them, but over time the definitions have gotten confused. For instance, Wiki defines gazebo as "a roofed structure that offers an open view of the surrounding area…"
Today, a Gazebo is a structure that is freestanding and open, often in a hexagonal or octagonal shape with a dome like roof. They generally aren't constructed with latticework though they could be if constructed on site.
Gazebos can be placed in any landscape and only make it look better. They greatly enhance the appeal of the area, and are very popular additions for home landscapes.
Gazebos normally contain a seating area for resting. They can be built to cover a picnic area for your family to sit and enjoy a meal while protected by sun and possible rain showers.
They normally are built with a complete roof system including shingles made of wood or metal, or with natural coverings like thatch, but some homeowners like to use latticework for the roof. You can also purchase canvas tarps, but it takes away from the romantic design of a Gazebo.
Gazebos are one of the most aesthetically pleasing garden additions. They really sophisticate any garden design and go equally well in formal as well as natural style gardens. Gazebos look great in coastal home landscapes as well as wooded landscapes.
If you have a healthy imagination, it's easy to see yourself sitting under your beach-side gazebo, enjoying a drink before dinner with your wife as you watch the sunset together. Or perhaps you desire a romantic fairy like setting in your wooded back yard, with a small pond near one side.
Gazebos can be placed in tiny yards or big ones, they look great just about anywhere. The only thing limiting you is your imagination.
At Aesthetic Landscapes, Inc., we make your landscape dreams come true, whatever they may be. Our expert landscapers will not only help you with your design, but will deliver an outstanding, beautiful landscape for you.
The best thing we love about our work is when a customer is pleased with the results. This is what we live and work for every day. We want to see every customer happy with their landscape so we know our work was done well. Our team works together to provide you with excellent service at every opportunity.
Adding a Gazebo or other enhancements for your landscape will add value to your home. If you ever sell, a more appealing lawn will help your home to appeal to more people. You'll be competing with neighboring homes that aren't landscaped and don't look near as nice. Good landscaping always goes a long way to make your home worth more than a grass lawn with nothing done to it.
When we build a Gazebo for you, it will be the showpiece in your landscape. You'll be sure to make your friends and family talk about your beautiful new lawn, and you'll be able to enjoy the look and function of your new Gazebo for some time to come.
If you are interested in Gazebo Installation for your landscape, please call 985-201-9797 or complete our online request form.