FENCES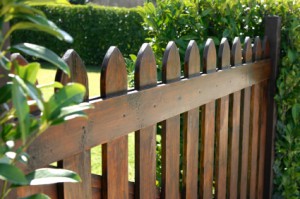 Our Fencing Services at Aesthetic Landscapes, Inc. include:
Installations
Painting
Staining
Finishing
Repairs
Replacement
Re-Finishing
Repainting
Our team of fencing installation technicians can build any type of fence you desire from natural stone to the plain wooden privacy fence. Our ready team can not only build you a fence, we can first design one that will knock your socks off when you see it.
Our design professionals will sit down with you to determine the scope of the work, the functional needs, and the aesthetic needs. We take all factors into consideration, especially your needs, wants, desires, dreams, and imagination.
Whether you want to place a small picket fix to romanticize a garden area or you need a fourteen foot safety fence installed, we can get it done for you. Masonry is no problem either. Rock walls make beautiful landscape features.
Fencing will always serve more than one function in a landscape. They can be used to:
Route throughway traffic
Hold in or keep animals out
Keep toys in a certain area
Differentiate areas of the landscape
Enhance the landscape appeal
Add privacy
and more
You'll have many choices to make for your new fencing. You could have a combination of fence types or choose from wrought iron, wood, chainlink, stone, or even get natural fencing like bamboo. The only thing you'll need to do is bring your imagination with you when we start designing your new fence.
We hope you let us help you with your fence design and build. And of course if you have any repairs on your existing fences, we can take care of that too. Just give us a call and we can get started on creating your new, gorgeous landscape.
If you are interested in Gazebo Installation for your landscape, please call 985-201-9797 or complete our online request form.