ARBORS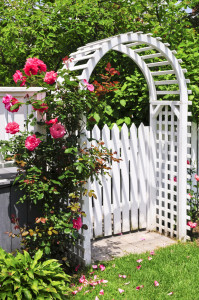 An arbor is a roofed structure within a landscape that provides shelter to some extent. They can be partially covered or have a complete rooftop. They can be installed for a number of purposes including:
Shelter from weather
Privacy
Landscape Accent
Distinguish areas of landscaping
Direct traffic flow
Support foliage
Generally, an arbor is either freestanding or is attached to the home. An arbor is a major structure compared to the smaller trellis. They can be made from wood or iron and can be purchased whole or constructed on site. You can find them complete at garden centers or online.
One of the most popular designs in Arbor's are the Gazebo and the Arbor and Bench. Simple arbor structures are great for defining sections of your landscape. For instance, you may have a backyard patio area where you and your family barbeque or enjoy and outdoor fireplace.
Leading off the patio, you place an arbor that you must walk through to get to your garden area. This helps to separate the two areas and keep people out of the garden when over visiting, unless they have specific purpose to be in the garden.
Arbors are different from Pergolas in that they are more simple in design and are usually arched on top, whereas Pergolas are generally larger structures that are used for large areas. An example of a Pergola is the covered areas that follows along a garden path. Pergolas can be large or long but Arbors are normally built for only a few people.
Vines and plants are commonly planted to grow on Arbors. Ivies, Vines, roses, and more can be trained to grow a beautiful archway into your garden or yard.
At Aesthetic Landscapes, Inc., we offer Arbor Installation Services for customers in the Madisonville, Livingston Parish, and surrounding areas of LA. We take pride in our quality services and the work we have done to provide our customers with the landscape they've always wanted. There's just nothing like making someone's dream come true to make you love your job.
Our team of professional landscapers install Arbors, Pergolas, Fences, Gazebos, ponds and water features, outdoor kitchens, outdoor living areas, hardscapes, and more. Whatever you want for your landscape can happen if you call on Aesthetic Landscapes.
If you've wanted to change your landscape, but have no idea where to begin, why not let one of our landscape designers help you create something amazing? Our design team is highly qualified and is standing by to serve you.
We want your yard to look beautiful and be a good reflection on you and your family. It makes our heart warm to know that we are helping you to be more comfortable in your home, and that your lawn is more functional for your needs. Whether you want a new arbor or several, or want a whole new design for your landscape, we are ready to help.
If you are interested in Arbor Installation for your landscape, please call 985-201-9797 or complete our online request form.