Spectacular Outdoor Kitchens in Madisonville
What is a beautiful addition to you? To many Madisonville homeowners the addition of a Outdoor Kitchen is the best thing since sliced bread. Outdoor Kitchens are the decorative and modern ultimate grilling area. The rising popularity of outdoor kitchens has created a market that is starting to get very competitive and with extremely attractive designs and prices. Gone are the days of being isolated behind the grill positioned on the flat part of the yard while the rest of the family enjoys the sun elsewhere.
We will build you a full service outdoor kitchen complete with grill, sink, storage, counter space and refrigerator. If you have out grown your current grill and are looking to take grilling to the next level, give our outdoor kitchen experts a call.
Bring the Kitchen Outdoors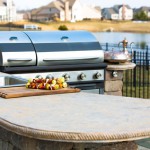 Having your Outdoor Kitchen professionally installed has its benefits. Our craftsmanship is unmatched and the designs are superb. There will be no more running in and out of the house to fetch anything, because everything you need will be readily available. We can install your grill masters paradise with plenty of storage, counter space, sink, and even a refrigerator. All of your needs are taken care of and cleaning the kitchen has never been easier. If you are ready to step up to the next generation of grilling then call Aesthetic Landscapes, Inc today!
Recent Articles
Understanding Some of Your Options for Outdoor Living

In recent years here in Mandeville and Madisonville there has been a significant rise in popularity for outdoor living spaces, and for good reasons. Why limit yourself to to just the interior of your home when you could branch out. Maximize your outdoor living space by seeing the potential past your four walls. This is...

Read More
Trends to Consider for Your Landscaping Water Features

When it comes to making choices about water features to consider for your Abita Springs landscaping, it helps to know what some of the current trends are, including what's popular locally. Aside from something specific like an Abita Springs beer fountain or something so unusual it could be part of the display at...

Read More
If you are looking for Outdoor Kitchens Services in Madisonville then please call 985-201-9797 or complete our online request form.