Spectacular Outdoor Kitchens in Madisonville
What is a beautiful addition to you? To many Madisonville homeowners the addition of a Outdoor Kitchen is the best thing since sliced bread. Outdoor Kitchens are the decorative and modern ultimate grilling area. The rising popularity of outdoor kitchens has created a market that is starting to get very competitive and with extremely attractive designs and prices. Gone are the days of being isolated behind the grill positioned on the flat part of the yard while the rest of the family enjoys the sun elsewhere.
We will build you a full service outdoor kitchen complete with grill, sink, storage, counter space and refrigerator. If you have out grown your current grill and are looking to take grilling to the next level, give our outdoor kitchen experts a call.
Bring the Kitchen Outdoors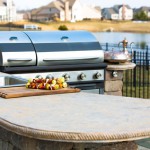 Having your Outdoor Kitchen professionally installed has its benefits. Our craftsmanship is unmatched and the designs are superb. There will be no more running in and out of the house to fetch anything, because everything you need will be readily available. We can install your grill masters paradise with plenty of storage, counter space, sink, and even a refrigerator. All of your needs are taken care of and cleaning the kitchen has never been easier. If you are ready to step up to the next generation of grilling then call Aesthetic Landscapes, Inc today!
Recent Articles
Best Easy To Care-For Plants For Louisiana Landscapes

Creating a landscape that's easy to care for is a magnificent way to free up your time on the weekends. If you live in St. Tammany Parish or nearby areas of Louisiana, you have to choose plants that thrive in our warm, humid climate. Our professionals at Aesthetic Landscapes, Inc. have put together a short...

Read More
If you are looking for Outdoor Kitchens Services in Madisonville then please call 985-201-9797 or complete our online request form.