Get Lawn Maintenance Completed by Professionals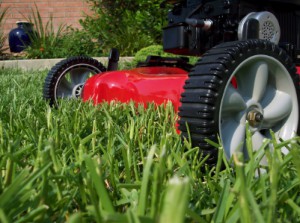 During the Spring and Summer months your grass will grow nonstop. If you don't do anything about it you will have a small forest growing in your front yard. We all have things to do, errands to run, and time is short. At Aesthetic Landscapes, Inc, we offer our Lawn Maintenance Services so you can take back your weekends.
We preform all the necessary mowing and trimming for you. We will cut your grass to the desired height, edge around you driveway and sidewalks, and trim your bushes the way you like them. All areas will be kept clean of trash and clippings after each edging/trimming. We can even remove weeds from your garden.
Regular Scheduled Lawn Maintenance
Whether you need a one time lawn care or regular scheduled maintenance, Aesthetic Landscapes, Inc is here to help. All work shall be scheduled and completed in a manner so as to insure the minimum disturbance to you and your neighbors. We will handle all your Lawn Maintenance needs in a timely manner keeping your property clean and looking its best. If you would like to know more about our Lawn Maintenance Program then call Aesthetic Landscapes, Inc and talk to one of our Lawn Care Specialist today.
Annual Contracts for Lawn Maintenance
Aesthetic Landscapes, Inc is available for Lawn Maintenance Annual Contracts. What does this mean for your home or business. This means you will get the best service at an affordable rate. This ensures that your property commercial or residential looks great year round. If you are looking for professional lawn cutting services, give us a call today! We would love to answer any questions you have and give you a free quote!
Recent Articles
Tips for Effective St. Tammany Parish Landscape Lighting

Having a couple of Madisonville landscape lighting additions installed in your home will have a great effect on the aesthetic appeal of your house, especially during night time. You would be surprised at how your home will look simply by adding a couple of lighting fixtures in your yard. Here are a couple of tips...

Read More
Figuring Out Your Landscape Lighting

If you are planning to landscape your Louisianan home, you'll need to make decisions on landscape lighting. You achieve a beautiful landscape with the right outdoor lights. But how do you know what type of light to put where? There will be several aspects to consider before making any decisions. Professionally installed and arranged landscape...

Read More
If you are looking for Lawn Maintenance in Madisonville then please call 985-201-9797 or complete our online request form.