About Us – Aesthetic Landscapes, Inc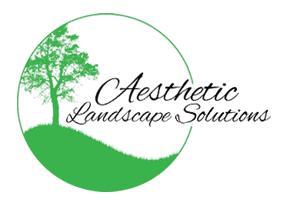 We have been a family business since 1980 when we started off as organic produce farmers. The type of work we do includes full service landscaping, irrigation installation and repairs, landscape lighting, formal and informal gardens, pavestone patios and walkways, retaining walls, fencing, gates, ponds, fountains, water features, pergolas, gazebos, outdoor kitchens and fireplaces, fire pits, patios, decks, and porches, subsurface drainage, drain pipe installation, soil, sod, mulch, lawn maintenance, and much more!
We later became greenhouse horticulturists and grew seasonal flowers, herbs, perennials, houseplants, tropicals, pointsettas, and much more. Shortly after that we opened a retail nursery and also began to grow shrubs, trees, ground covers and other nursery stock.
In 1989 we went to landscape design school and after that created our very own landscape company! This became our true passion so we decided to leave the growing business and focus all of our time and effort to making people's homes beautiful. Over 20 years and thousands of landscaped homes later, we have found that giving people low maintenance designs is the way to go. That is why, unless otherwise requested, we specialize in aesthetic low maintenance designs.
Our Mission Statement
Our Mission is to constantly exceed each customer's expectations while setting the industry example for landscape designs and adding value to your home!
Our Landscape Design Solutions
OUR SOLUTIONS are custom-designed to fit each project. We use our own highly skilled crews to do the work and we supervise them directly. We love the synergy that results when we discuss your design needs with you, and we are not afraid to think outside the box!
Our Commitment to Our Clientele
WE ARE A FULL-SERVICE LICENSED AND INSURED LANDSCAPING BUSINESS. We manage all aspects of your project… WE UNDERSTAND that large projects often need to be done in phases. We create our designs so that the first phase can flow smoothly into the last, and we are happy to work with you to break your project into affordable stages. These can be done in a single year or over a period of years. WE USE TOP-QUALITY plants and materials with a ONE YEAR GUARANTEE. WE BELIEVE in the importance of having outdoor living spaces. Being connected to nature brings wholeness and well being!
Recent Articles
Best Easy To Care-For Plants For Louisiana Landscapes

Creating a landscape that's easy to care for is a magnificent way to free up your time on the weekends. If you live in St. Tammany Parish or nearby areas of Louisiana, you have to choose plants that thrive in our warm, humid climate. Our professionals at Aesthetic Landscapes, Inc. have put together a short...

Read More
If you are looking for information about a Mandeville and Madisonville Landscaping company then please call 985-201-9797 or complete our online request form.